Honduran Delmer Joel Ramrez Palma, who has lived in New Orleans for 18 years, warned supervisors of safety concerns
A construction worker who attempted to warn managers about building dangers and was seriously injured in last months deadly Hard Rock Hotel collapse in New Orleans, will be deported on Monday, his lawyers said this week.
Delmer Joel Ramrez Palma, a Honduran citizen, was working inside the 18-storey building when it dramatically crumbled on to a busy downtown intersection on 12 October, killing three and injuring dozens. He survived a fall from the ninth floor to the sixth by swinging from a rope.
Ramrez Palma was hospitalized with serious injuries, including head trauma and internal inflammation, and still requires surgery for an acute eye injury, according to his wife and two lawyers working on separate immigration and civil injury cases.
Immediately after the accident, he was interviewed by a Spanish-language media outlet. Two days later, he was arrested by immigration authorities while fishing with his family in a national wildlife refuge.
He has lived in New Orleans for 18 years.
According to his lawyers and his wife,Ramrez Palma had reported safety concerns including asymmetrical building measurements and uncured concrete too weak to support weight to his supervisors at King Company, a New Orleans construction firm,before the deadly collapse.
Construction managers allegedly told him to ignore the issues, according to Mary Yanik, senior staff attorney at the New Orleans Workers Center for Racial Justice, an advocacy group.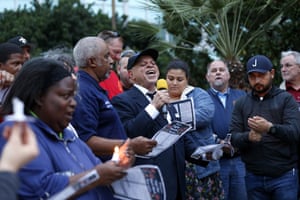 Source: http://www.theguardian.com/us