From romcoms to Marvel blockbusters, east Asian actors are enjoying unprecedented success. Whats taken the film industry so long?
It was the moment that all romance fans look forward to at the end of a film, hearts bubbling with anticipation: the kiss. I was watching The Edge of Seventeen, a smart coming-of-age movie, in which Nadine (Hailee Steinfeld) had rushed to see her awkwardly endearing classmate (Hayden Szeto). After a bungled date and a crush on another man, she had decided Erwin was the one she wanted.
And then, instead of any show of passion, there came an affectionate pat on the back as he introduced her to his friends. Moments before, I had been delighted that a Canadian actor of Chinese descent had been cast as the love interest of a white American woman. As the credits rolled, I felt cheated.
That was three years ago, however, and since then the landscape has completely shifted for east Asian actors in Hollywood. Now they dont just get the girl, theyre allowed to kiss them, too. We have Henry Golding set to romance Emilia Clarke in Last Christmas and the Asian American actor Randall Park out-charming Keanu Reeves in Always Be My Maybe. In 2021, Simu Liu, a Canadian actor who was born in China, will roundhouse kick his way into the Marvel Cinematic Universe as its first Asian superhero in Shang-Chi and the Legend of the Ten Rings.
Suddenly, an invisible minority is becoming part of cinemas mainstream. Not only are east Asian actors finally leading films rather than playing supporting roles, their characters are relatable and desirable. If you look at the east, youve got lots of very famous, good-looking [Asian] leading men in romantic roles and playing heroes, says the actor David Tse, who has starred in Lara Croft: Tomb Raider and Spy Game. Theres nothing unusual about it. But in the west, there is this bamboo ceiling. Theres been this endemically racist trope that east Asian actors feel incredibly angry and resentful about.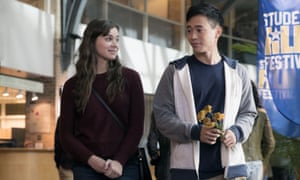 Source: http://www.theguardian.com/us