Steven Soderberghs latest film is about dodgy dealings in the financial world but in film-making corruption is not endemic, he says, because everyone is accountable
Every good movie is a heist movie at heart, whether the heist is committed on or off camera. Steven Soderbergh suspects that is what he likes about film-making: the chance to play the role of a criminal mastermind, assembling a gang of diverse talents for a high-stakes adventure. Sometimes it pays off, sometimes not its all part of the thrill. The life not lived, he says with a grin.
Soderbergh has made films about dashing, lawless outsiders: bank-robbing George Clooney in Out of Sight; the rackety brothers in Logan Lucky; the whole star-spangled crew from the Oceans franchise. His latest picture tackles a different breed of crime one that is industrialised, anonymous and altogether less romantic. Inspired by the 2016 release of the Panama Papers, The Laundromat lifts the lid on a culture of tax evasion and financial skulduggery, bent accountants and shadowy lawyers. Soderbergh prefers underdogs; white-collar crooks make him sick. But it may be that he is swimming in the same dirty water.
Seated by the window in his Venice hotel, the director holds court with the easy authority of a seasoned campaigner. Soderbergh has shot scores of movies and met hundreds of reporters. The interview junket is bread-and-butter to him. So he says that he chose to frame The Laundromat as a black comedy because that was the best way to get the information across. And he explains why he installed the disgraced lawyers Jrgen Mossack and Ramn Fonseca as the films Greek chorus, plundering their own words in order to power the script.
They are not portrayed doing anything in the film that they didnt do in real life, he points out. I mean, if I had one of them grabbing a womans handbag on the street, they could say, Well, I didnt do that. Whereas they have, essentially, been grabbing womens handbags in a global sense, on every street.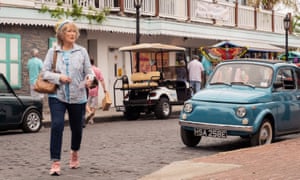 Source: http://www.theguardian.com/us