Environmentalist Rick Small says he gave away boat now on display in community garden in Ireland
The wooden houseboat washed ashore on Irelands Atlantic coast three years ago, prompting two questions: how did it get there? And where was Rick Small?
The 20ft (6-metre) craft, made with driftwood and polystyrene and fitted with solar panels, had no one at the helm when it turned up at Drum beach, near Belmullet in County Mayo, in November 2016.
There was a message written on the ceiling: I, Rick Small, donate this structure to a homeless youth to give them a better life that Newfoundland chose not to do! No rent, no mortgage, no hydro.
Small was known in Canada as an environmentalist who built solar-powered three-wheeled bikes, but he was elusive and his connection to the boat, and how it crossed the Atlantic, remained unclear.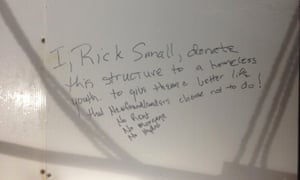 Source: http://www.theguardian.com/us