Yorgen Fenech entered not guilty plea to charges relating to killing of Daphne Caruana Galizia
A businessman has been charged with the murder of Maltas best known investigative journalist, Daphne Caruana Galizia.
Local tycoon Yorgen Fenech, the 38-year-old head of a gambling and property empire, was arraigned on Saturday evening, and charged with participating in a criminal organisation, complicity in causing an explosion, and complicity in the murder of Caruana Galizia.
He has pleaded not guilty. Fenech has been held in custody and his assets have been frozen on request by the police. His lawyers did not request bail.
The journalist, who had exposed corruption at the highest levels within the Maltese government, died when an explosive device planted under the drivers seat of her rental car was detonated on 16 October 2017.
The assassination and subsequent accusations of a cover-up have provoked international condemnation, and pitched Malta into its biggest political and constitutional crisis since the former British colony became an independent country in 1964.
Fenech was apprehended at 6.20am on 20 November last week by armed forces while sailing away from Malta aboard his luxury yacht.
Before his arraignment, Fenech had attempted to implicate the Maltese prime ministers closest political ally, Keith Schembri, as a co-conspirator. Schembri resigned Monday as chief of staff to the prime minister, Joseph Muscat, and was held in police custody for questioning before being released Thursday. He denies all allegations against him.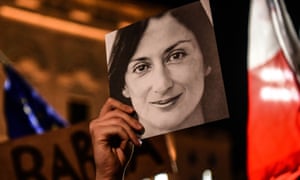 Source: http://www.theguardian.com/us