The Swedish climate activist joined more than 1,000 people for an afternoon of youth-led climate action in Los Angeles
Paradise is not what it used to be, as Greta Thunberg witnessed earlier this week. Today the town with a lovely name is best known for the apocalyptic fire that ripped through it last year, decimating nearly every home and killing 86 people.
This week California is once more in flames as fires rage in the north and south a point that was not lost on the 16-year-old Swedish climate activist who spoke at a rally in Los Angeles on Friday.
We can see the wildfires happening right around the corner, Thunberg said outside City Hall, just miles from an ongoing blaze. Right now we are living in the beginning of a climate and ecological breakdown, and we cannot look away from this crisis anymore.
More than a thousand people joined Thunberg for an afternoon of youth-led environmental action, a scene that has become familiar as she and young people like her are increasingly frustrated with the inaction of their elders.
The older generations are failing us, she told the crowd, where organizers of the Youth Climate Strike were demanding that Californias governor Gavin Newsom impose an immediate moratorium on new oil and gas drilling. They are failing future generations. But future generations do not have a voice. And the biosphere does not have a voice. So we will be the voice that speaks for them.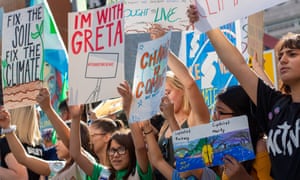 Source: http://www.theguardian.com/us