Arsenal were 5-4 up before Liverpools Divock Origi made it 5-5 in the fourth minute of stoppage time and Curtis Jones then scored the winning penalty
There were more goals scored in normal time than in the penalty shootout and Liverpool advanced to a quarter-final their manager suggested they might never play. Yes, it was another of those ridiculous Anfield nights. It started with an own goal and finished with an 18-year-old from Liverpool, Curtis Jones, converting the decisive spot-kick in front of the Kop. The fulfilment of his dream was a nightmare for Arsenal.
Unai Emery could point to Caoimhin Kellehers penalty save from Dani Ceballos in an otherwise flawless shootout as the fine margin that often separates teams at this level. It would not be entirely true. His team traded 10 goals with Liverpool, ranging from ugly to stunning and including everything in between. They traded dreadful mistakes and blows from beginning to end of an enthralling cup tie too. But only one side possessed the belief that the game is never over and it was not the team that led from the 26th minute until the 94th, that led 3-1, 4-2 and 5-4 in stoppage time. The faces in the Liverpool starting lineup had changed all 11 of them from the win against Tottenham on Sunday in fact but the strength of character to go to the last had not. Liverpool have a winners mentality throughout their squad. Arsenal lost theirs a long time ago.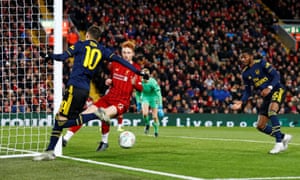 Source: http://www.theguardian.com/us