Relations between Klopp and Guardiola and historical rivalries mean this fixture is a long way from the Battle of the Buffet
Crunch time arrives in the Premier League at the weekend. It is only necessary to glance at the league table now or last season to see why games between Liverpool and Manchester City are important in terms of the title race. The managers have had a nibble at each other over diving and tactical fouling in the buildup and few attending Anfield on Sunday will doubt that one side or the other will end up champions, yet for a variety of reasons there seems a reluctance to accept this fixture as the biggest in English football.
Perhaps the most obvious one is that it is not yet the biggest rivalry in English football. When it was suggested to Jrgen Klopp last season that the City game might soon assume the significance of Liverpools ancient battle for supremacy with Manchester United, with all its perch-clearing braggadocio and title hauls running into double figures, even a German knew England well enough to dismiss the notion as bollocks.
It is not that Klopp feels the United rivalry particularly keenly during his time in England he has never had to encounter a sustained threat from the direction of Old Trafford it is more that like everyone else he doubts whether City and Liverpool have been going at it long enough to claim a place at the forefront of this countrys footballing culture.
Liverpool have not won a league title for 30 years, and in those circumstances Klopp is understandably wary of claiming his side are at the forefront of anything. City have been the team to beat for two impeccable campaigns now last season they added a clean sweep of domestic trophies to their impressive 100-point total in 201718 yet before the overseas money arrived they were even longer in the wilderness between titles, not to mention dropping as low as the third tier of English football.
So while this particular two-team hegemony is a new twist at the top of the Premier League, no one quite knows how long it will last and a certain amount of ill-feeling building up over time is what is required to produce memorable set pieces such as Arsenals Battle of the Buffet at Old Trafford or Rafa Bentezs infamous list of facts.
Klopp and Pep Guardiola seem to quite like each other. On the evidence of previous meetings mutual admiration is more likely than mischief or mind games and to an extent the same is true of both sets of supporters. There is not much history of grudge or animosity between Liverpool and City fans, even if the former did give the visitors coach a rough ride when the teams met in the Champions League at Anfield two seasons ago. All too plainly their common dislike of Manchester United is greater than any rancorous mistrust of each other.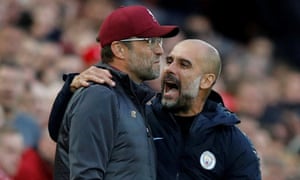 Source: http://www.theguardian.com/us